Description and Benefits
Face and Body Laser Hair Removal
Laser Hair removal is becoming increasingly popular around the world for its excellent results and efficiency. Long-term results and the comfort of not having to deal with hair removal procedures periodically make laser hair removal treatments very useful and time saving. More benefits like better skin condition and lower chance of infections and ingrown hair, make this procedure a worthy option to consider. 
At Crystal Care Clinic, we provide our clients with 2 solutions for Face & body laser hair removal which ensure permanent results: Lightpod Laser &  the most advanced Diode Laser with 3 wavelengths (Diode, Alexandrite & Nd:Yag)
Our lightpod laser has transformed the business of laser hair removal with new technology that removes pain from the treatment, while providing best-in-class efficacy, even on tanned or darker skin types. The laser uses a combination of heat and energy to destroy the hair follicle without harming the skin around it. In addition, the laser performs hair removal without any skin cooling during the treatment and without contact to the skin by the handpiece – a major technological breakthrough!
Our advanced diode laser brings together 3 wavelengths (Diode, Alexandrite and Nd-yag) with an innovative double cooling system, for unique results and painless treatment. Selectively hitting the target, this technology can propagate the right amount of energy for an adequate time. In this way, the laser beam is solely absorbed by the hair bulb, which is damaged by continuing to accumulate heat, compromising the enzymatic exchange with the germination papilla and therefore the life cycle of the hair.
Right from the first few sessions you will be surprised by the visible, fast and long-lasting results.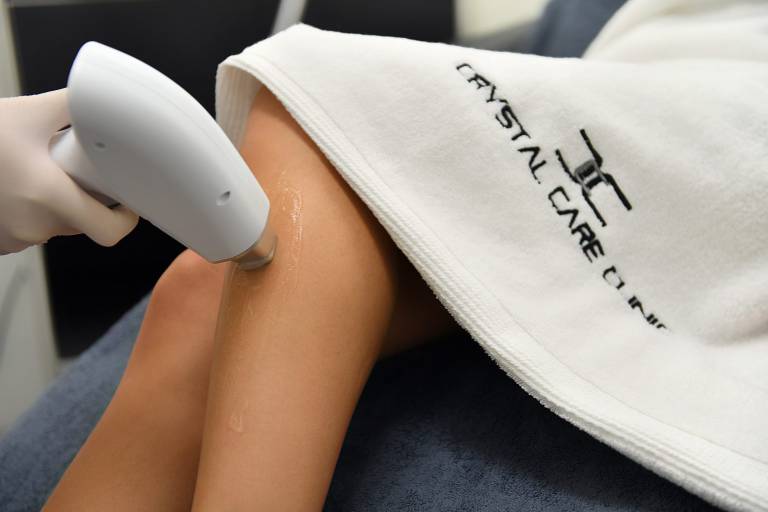 Who can have this treatment?
Laser hair removal is best for women who want to achieve long lasting skin smoothness on the face and body.   Ingrown hair is another problem which can be excellently fixed with laser treatments. After just a few treatments, you can forget about the painful ingrown hair which can occur. These treatments are also performed on men, usually on the following areas: face, neck, chest, armpits, back and abdominal areas.
How many treatments do I need?
This can vary depending on skin and hair color, but generally 6 to 8 sessions are required for 80% or more clearance. After that, an annual maintenance treatment is recommended.
Feel free to contact us By phone on +961 4 444652

or through Whatsapp on +961 3 444652