Face Treatment
Laser Active Acne Treatment
Acne is an inflammatory disease of the sebaceous glands characterized by comedones (blackheads and whiteheads) and pimples that typically appear on the face, back, and chest. Acne is most common among teenagers, though it affects people of all ages.
The treatment is a type of laser therapy used to treat acne by targeting the sebaceous glands, which are the glands that produce oil. By targeting these glands, the laser can help to reduce the amount of oil that is produced, which can help to reduce the amount of acne that is formed.
Acne laser treatment is the most common type of skin care treatment and it is a great choice for people who want to reverse negative changes in their skin as a result of aging and severe imperfections on the skin.
Benefits of Laser Acne Treatment
Laser treatments are safe, non-invasive and there is no downtime.
Acne laser treatment can be used to treat acne scars on all skin types.
It does not cause any damage to the skin and is ideal for all age groups.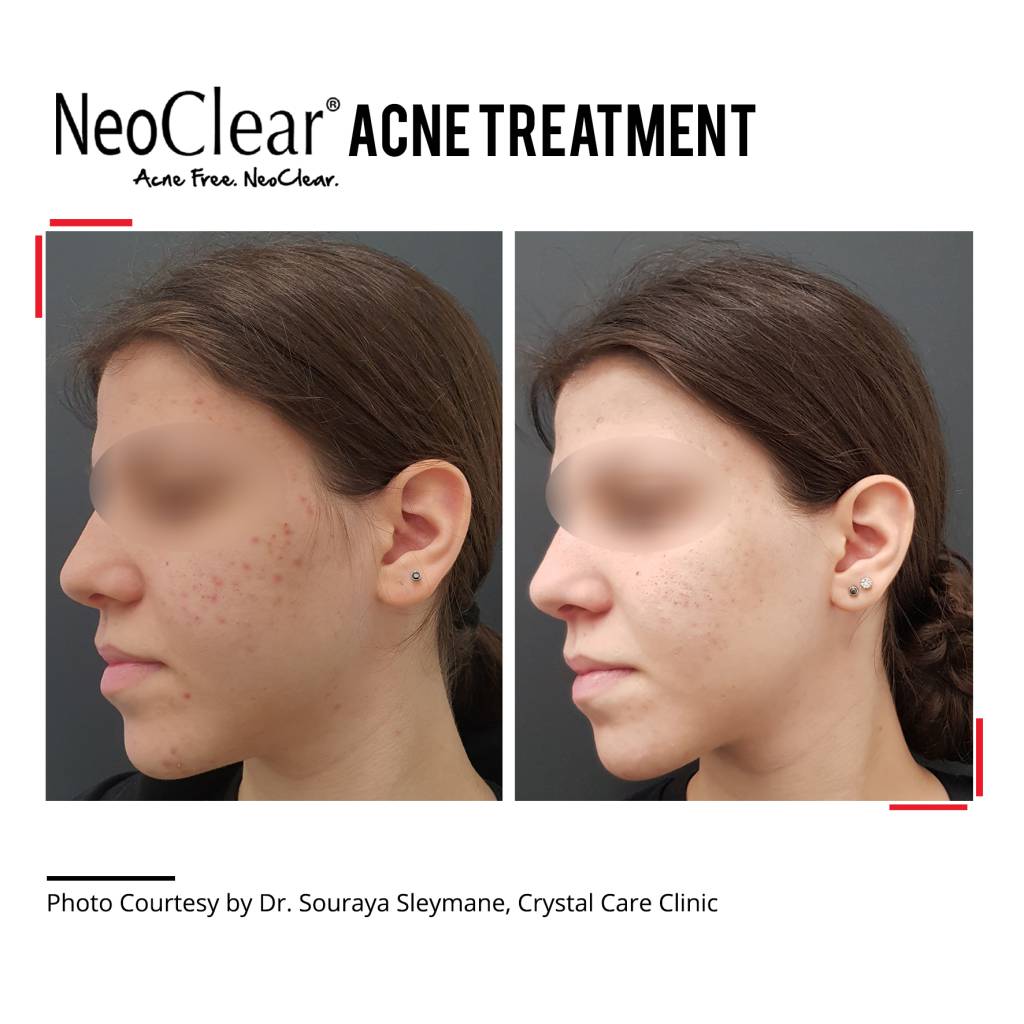 At Crystal Care Clinic, we offer a new approach to acne treatment that is proven to have powerful, long-term effects on those with active acne. With Neoclear®, Acne results are quick and without adverse symptoms. The technology used is reduced to gentle energy delivery laser light. The laser will help to reduce acne bacteria, control inflammation, and inhibit the production of sebum and oil by attacking and destroying scars. Finally, in addition to limiting the appearance of new lines and wrinkles, it also stimulates collagen production for the skin which can diminish existing scars.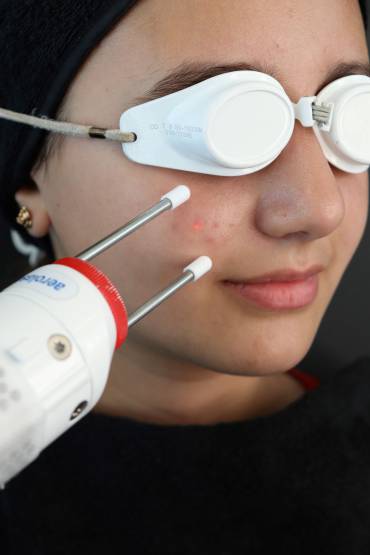 How many treatments do I need?
A minimum of 3 to 6 sessions performed at 1 to 2 weeks intervals is advised, in order to achieve the maximum results. However, you will see an improvement after just one treatment.
In order for these results to last, it is important that you commit to the recommended amount of treatments at the right intervals.
Frequently Asked Questions
1. What aftercare is required after an acne treatment?
Aftercare is the term used to describe a series of steps that should be taken in order to maintain the best possible results. These steps will vary depending on the severity and type of treatment, but the most common steps include washing your face, avoiding sun exposure, and applying a moisturizer.
2. How can our patient care coordinator help you with your options for acne treatment?
Crystal Care Clinic is a luxury skin health clinic focusing on innovative skin treatments in Lebanon, and our patient care coordinators can help you decide which option would work best for your specific needs.
Feel free to

Call us on +961 4 444652

or Whatsapp +961 3 444652