Body Treatment
Laser Hand Rejuvenation
One of the first parts of our body to show signs of aging are our hands. The aging process of the hands requires a combination treatment approach for optimal rejuvenation. At Crystal Care Clinic, we use several procedures for hands rejuvenation: PRP, laser rejuvenation, injectables and medical grade peels.
PRP or Platelet Rich Plasma Injection Treatment helps to restore the look and feel of young hands. Using the patient's own blood, concentrated platelets containing growth factors are isolated from the blood and reinjected into the problem areas, such as the hollows of the hand. This platelet rich plasma (PRP) is used to stimulate the body's natural processes to repair and restore its cells and tissues, and leads to collagen renewal in the area. Unattractive aging hands are rejuvenated by the body's own innate ability to heal itself. Results can be seen after several weeks when the injected PRP stem cells begin to produce collagen to regenerate the skin.
The Laser technology used for hands rejuvenation is safe and gentle, and focuses on stimulating collagen production which reduces fine lines, also provides more even skin tone and texture and tightens the skin, all through a non-invasive treatment.
Injectables can also be of assistance as they can help restore the appearance of hands that are suffering from the effects of collagen loss by "plumping up" the skin, which helps minimize the appearance of bulging veins and tendons. We ensure that only FDA-approved injectables are used to add instant volume to your hands and help stimulate natural collagen production.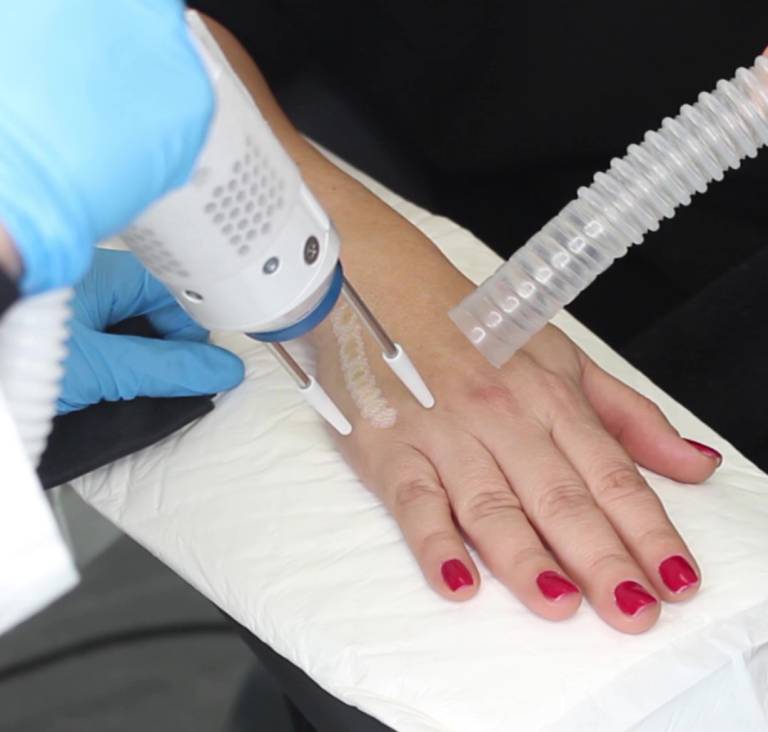 Who can have this treatment?
This treatment is recommended for people over the age of 35 starting to notice signs of aging on their hands. During your consultation, our doctor will advise which treatment plan is right for you.
How many treatments do I need?
During your consultation, our doctor will assess the number of treatments you will need depending on your case.
Feel free to

Call us on +961 4 444652

or Whatsapp +961 3 444652