Body Treatment
Laser Stretch Marks Treatment
Stretch marks appear when the skin is suddenly overwrought. Rapid changes in skin size cause the rupture of collagen and elastin components in the skin, causing stretch marks. These most commonly occur during puberty, when they can also happen during pregnancy and weight gain.
What are the benefits of laser treatment for stretch marks?
There are many benefits of laser therapy for stretch marks. Some of these benefits include the following:
 Improvement in the appearance of stretch marks
Reduction in the appearance of scars
No pain or discomfort
Little to no downtime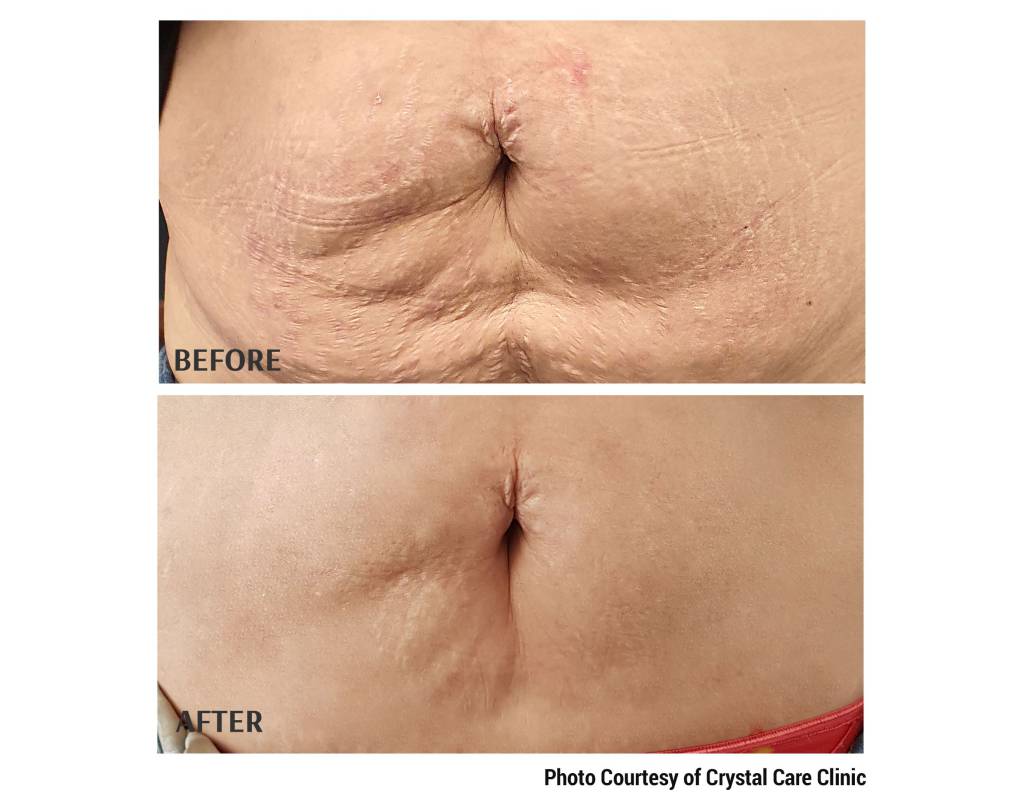 At Crystal Care Clinic, we treat Stretch Marks through our progressive laser technology which ablates the skin along these streaks or strips and resurfaces the scar tissue and reduces their appearance simultaneously improving the texture and tone of the skin. This procedure allows the skin to heal evenly and the heat from the laser energy stimulates the formation of new collagen. 
It's a quick and simple procedure that is easy to recover from and makes the skin smoother and more attractive. In just a few fast, easy treatment sessions, stretch marks are much less visible leaving behind smoother skin.
Who can have this treatment?
People who suffer from stretch marks after pregnancy or weight gain/loss can have this treatment. However, during your consultation, our practitioner will assess your expectations and medical background, to make sure you're a suitable candidate.
How many treatments do I need?
The number of sessions vary from patient to patient, but most people need 4 to 6 treatment sessions for desired results.
Frequently Asked Questions
1. What to expect after the laser stretch marks procedure?
There may be some redness and swelling after the treatment, therefore you should avoid direct sunlight for a few days following the procedure.
2. How long will the recovery time be?
Recovery time is usually short and patients can resume regular activities immediately following treatment.
3. What are the general steps to prepare for a Laser stretch marks treatment procedure?
In order to prepare for a stretch mark removal treatment procedure, patients should do the following:
Step 1. Stop using any products that contain Retinol or Alpha Hydroxy Acid (AHA) two weeks prior to treatment.
Step 2. Avoid tanning and waxing for a few days before the procedure, as these activities can increase the risk of side effects.
Feel free to

Call us on +961 4 444652

or Whatsapp +961 3 444652